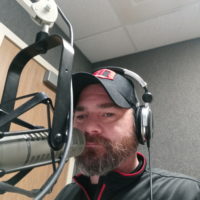 WHERE WERE YOU BORN?
Port Huron Hospital. Raised in Croswell
WHAT'S YOUR FAVORITE FOOD?
I am a steak and potatoes guy. Also any form of chicken and rice  
WHAT'S YOUR LEAST FAVORITE FOOD?
Beans, except green beans. The rest I can do without
RELATIONSHIP STATUS? KIDS? PETS?
I have been married 12 years, been together 15, and Courtney helped me build up the transition from musician to behind the scenes of things.
I have a zoo! I have an 11 year old son, Carson. An 8 year old daughter, Kaydence.
Two dogs. Charlie (a blind/deaf Buttercup and Doug (Aussie Mutt mix). Then two cats. Smokey and Melody.
WHAT'S YOUR FAVORITE PART ABOUT BEING IN THE BLUE WATER AREA?
Definitely the views but most of all the music scene.
IF YOU WEREN'T WORKING IN RADIO, WHAT DO YOU THINK YOU'D BE DOING?
I'd like to say something amazing like a cryptozoologist but I am one of the lucky ones that do music full time. I run my own mobile DJ company and work for another one out of Troy. I run live sound with another company, as well as freelance. Then to round it out, help run a DIY venue/recording studio with my studio partner. I fell into radio and love it because it is like everything came full circle.
WHAT'S YOUR FAVORITE MUSIC TO LISTEN TO?
I know it's a generic answer but pretty much everything. I am huge into grunge/alternative, blues, oldies and Motown though.
WHAT'S YOUR FAVORITE SEASON?
I have two seasons: DJ and Hockey season. Hockey season is my favorite though!
WHEN NOT WORKING, WHAT ARE YOU TYPICALLY DOING?
Music in some capacity or running children all over the place! My son plays travel hockey, then travel and district baseball. My daughter does gymnastics and competitive cheer. I normally play hockey but this year has been hectic and I am not getting any younger!
WHERE ON SOCIAL MEDIA CAN WE FIND YOU?
Facebook and have an Instagram. The Instagram is weird because I have never posted anything and have 357 followers. One day I might do it. I just miss Myspace!
ANYTHING ELSE YOU WANT TO SHARE?
I have been playing hockey since I was 4 years old and coached for 6 years. 
I have been doing music a majority of my life. Started guitar at 12, drums at 13 and had my first recording rig at 14. 
I have been a guitarist, drummer, songwriter, booking agent, promoter and published writer with a blog and in a few Detroit magazines.  
I have three degrees from the Recording Institute of Detroit and won 7 local music awards.