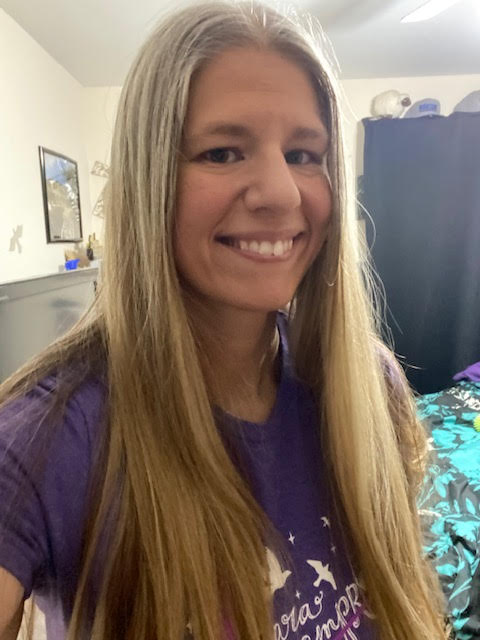 WHERE WERE YOU BORN?
Right here in Port Huron!
WHAT'S YOUR FAVORITE FOOD?
If we are being really specific, hot fudge ice cream cake from Big Boy. Also can never go wrong with a good dill pickle pizza. Or a burrito. Honestly, anything with jalapeños on it. And all other food really… EXCEPT…
WHAT'S YOUR LEAST FAVORITE FOOD?
Onions. I'm not sure why they exist. They just overpower the flavors of foods that actually taste good.
DO YOU HAVE ANY KIDS AND/OR PETS?
No mini-Deidres thankfully but 2 cats (Little Girl the one-time Q Country Critter and Castiel who is widely known as Birth Pufferton. We don't ask questions.) and 1 dog (Teddy).
WHAT'S YOUR FAVORITE PART ABOUT BEING IN THE BLUE WATER AREA?
The water, 100%! I am a self-proclaimed boat nerd. My earliest memories are of my great grandfather quizzing me on the names and lengths of the Great Lakes freighters. Nothing feels more like home than relaxing by the river as an Algoma ship goes by.
IF YOU WEREN'T WORKING IN RADIO, WHAT DO YOU THINK YOU'D BE DOING?
Well, I'm also a researcher at University of Michigan, a full time student, and I own my own online sales business, so I think my answer would just be more of those things coupled with missing radio!
WHAT'S YOUR FAVORITE MUSIC TO LISTEN TO?
Now this is a mixer! Matchbox Twenty is my favorite band of all time. I'm also a huge Swiftie. Kenny Chesney kills it live, so he definitely makes the list. I'm also a big fan of the indie rock band Louden Swain. Check them out! Lastly, anything Lin-Manuel Miranda touches is gold. I'm often found listening to the Hamilton and In The Heights original broadway cast recordings.
WHAT'S YOUR FAVORITE SEASON?
Summer or Hockey of course!
WHEN NOT WORKING, WHAT ARE YOU TYPICALLY DOING?
Thrifting or studying… or my guilty pleasure: watching soap operas. Pre-pandemic, traveling. One of my favorite places to be is on a plane.
WHERE ON SOCIAL MEDIA CAN WE FIND YOU?
Facebook
ANYTHING ELSE YOU WANT TO SHARE?
Just how thrilled I am to be back at Q Country 107! Life has taken me some pretty crazy places since I was here previously, including spending a couple of years living in Nicaragua. Fun fact: radio there is pretty much like a dating service. Listeners call in and give their phone numbers on the air so that other listeners can call them. It's like Q Tinder 107!