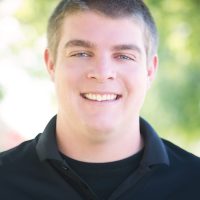 Matt Markham
Where were you born and raised?
Motown! Born in Detroit, raised in Macomb County.
Married? Kids? Animals?
I'm single, so that's a big no to marriage. Thankfully I don't have kids, because I really am struggling to take care of myself. So if I had any, the struggle would be even worse. I have a beta fish named Connie though! I bought him/her to teach me more responsibility, and he/she is still alive, so I have that going for me.
My typical breakfast?
I don't actually eat breakfast. Very poor life decision. But I need my coffee! I'll have roughly 8 cups between 9 am and noon.
Favorite Charities?
In my 3 years here at RadioFirst, I've gotten to know a few. It's hard to pick, but it's between the free Mammogram Fund at McLaren Port Huron and the Child Abuse and Neglect Council. Both do great work!
Spare time?
Pretty outgoing person so whatever pops up I'm game for. Golf, fishing, going to Vegas, and of course, watching any of the Detroit sports teams!
Favorite concert?
Can I pick 2? Sure I can, no one is beside me as I type this. It's a toss-up between the 2 Detroit boys, Eminem and Kid Rock! Saw Eminem at Comerica Park in 2010, and am a huge fan. Saw Kid Rock open up Little Caesar's Arena, and although I like Eminem's music more, Kid Rock puts on a heck of a show!
Favorite restaurants?
What's with all the 'favorite' questions? Locally, it's Casey's Pizza & Subs or CJ'S Bar & Grill. Amazing food! Worldwide, Hooters Casino in Las Vegas was pretty great as well.
Memorable on-air moment?
When I was afternoons on our sister station (Port Huron's Alternative, Rock 105.5), my mom came in for a Mother's Day show. My boss, Ben Coburn, came in while I was asking questions to her. He interrupted me and asked what is the most embarrassing thing I've done, and she brought up live on the radio that during a swim meet, my Speedo (sorry for the poor imagery in your mind) came off and I just continued to swim.
Thanks mom!