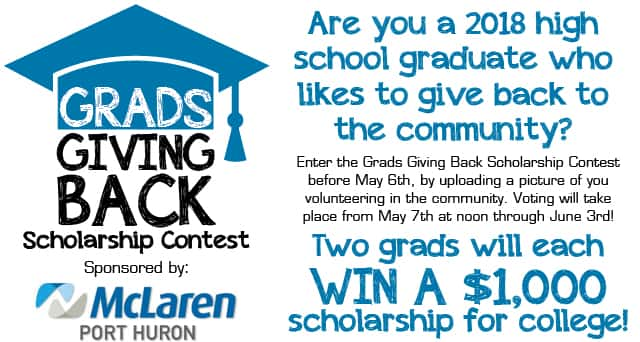 If you are under 18, download this Parental Consent Form. Return it to complete your entry.
Submit your photos at wbti.com, rock1055.com, wphm.net or wsaq.com before May 6, 2018 at 11:59pm EST.
Entries consist of full name, age, city, phone number, email, high school name, picture and description. (Must also include parental consent form, if graduate is a minor.)
Entries must include a picture, to which you own the rights.
Voting will take place May 7, 2018 at 12:00 pm until June 3, 2017 at 11:59pm EST.
Ten Votes, per device, for the entire voting period.
Winners will be announced on June 4th.
By entering in the picture contest, you give WBTI/WSAQ/WPHM/ROCK105.5 the right to display your photo, name, high school name, and city on wbti.com, rock1055.com, wphm.net and wsaq.com
One entry, per person.
Prizes have no cash value.
Must be a 2018 graduating senior from a Blue Water Area High School, and demonstrate giving back to the community through volunteerism activities.
No purchase necessary. Void where prohibited. All federal, state, and local regulations apply.
96.9 WBTI, WPHM 1380, Rock 105.5 and WSAQ 107.1 management has final say in contesting decisions.
Rules are subject to change at any time and without notice.
The winners, the two photos who receive the most votes, will each receive a $1,000 scholarship to the college of their choice.