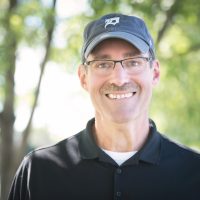 WHERE WERE YOU BORN?
Detroit! Back when Detroit was the coolest!!
WHAT'S YOUR FAVORITE FOOD?
All foods! But, if I need to be specific, Seafood!!
WHAT'S YOUR LEAST FAVORITE FOOD?
???? Rutabaga?

DO YOU HAVE ANY KIDS AND/OR PETS?
Both!! 1 son, Joe and 2 daughters, Lindsay and Lauren!! & Our gray girl, a tuxedo cat, Lucy!!
WHAT'S YOUR FAVORITE PART ABOUT BEING IN THE BLUE WATER AREA?
#1 The water!! #2 The listeners! It's great to work at a station that is loved by so many! Thank you!!
IF YOU WEREN'T WORKING IN RADIO, WHAT DO YOU THINK YOU'D BE DOING?
It would be something revolving around music! Music has been the focal point of my entire life!
WHAT'S YOUR FAVORITE MUSIC TO LISTEN TO?
Roots of most any form of music. Early Country, Early Rock, Early Jazz, etc. Rap may be the only one left out…
WHAT'S YOUR FAVORITE SEASON?
Most definitely Fall!! I love most everything about it, except for leaf burning. My poor lungs can't handle the smoke!
WHEN NOT WORKING, WHAT ARE YOU TYPICALLY DOING?
Home chores, yard work, home improvement projects, playing piano and listening to music!
WHERE ON SOCIAL MEDIA CAN WE FIND YOU?
Facebook!
ANYTHING ELSE YOU WANT TO SHARE?
Maybe my food, but you have to be REAL nice!!