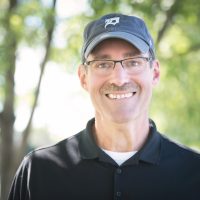 Where were you born and raised?
Northwest Detroit

Married? Kids? Animals?
Married to Linda for 9 years now. One son, Joe who lives in the Los Angeles area and 2 step daughters, Lindsay and Lauren who both live in the metro Detroit area. Our new pet adoption is Lucy! A 3 year old cat that acts like a dog. We love her!!
My typical breakfast?
Big oatmeal fan! It's good for ya!
Favorite Charities.
St. Clair County Child Abuse & Neglect Council….duh?
Spare time??
Exercising, walking, projects around the home and music, music, music. It's what led me to my career.
Favorite concert.
It was one of my first as well…The Who at the Southfield High School gymnasium. 11/22/1967! Incredible!
Favorite restaurants.
Casey's, Tio Gordos, Marine City Fish Company, Bogey's, Cheap Charlies, etc.
And memorable on-air moment.
As a drummer in my youth, I was invited to audition for Bob Seger and the Silver Bullet Band!