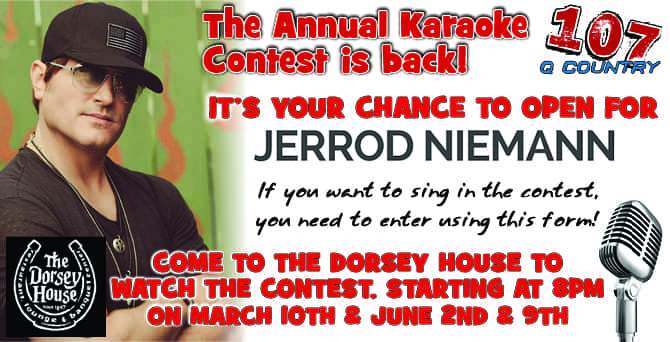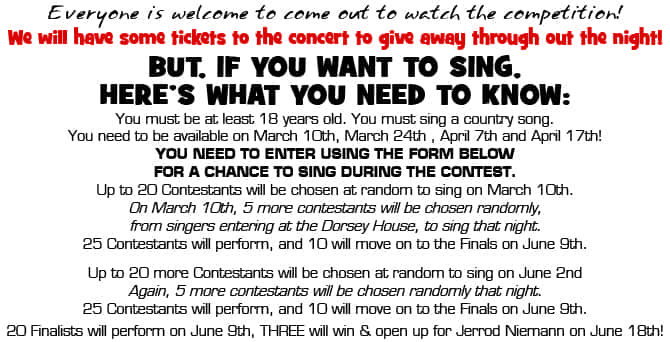 *See full contest rules below*
1. All Karaoke contest participants will have either entered on wsaq.com and been chosen by random draw to compete, or will have been randomly drawn the night of Round #1 or Round #2 of the contest. 20 people will pre-qualify online and 5 will be drawn at the Dorsey House just prior to the start of the competition. Total of 50 contestants between the two preliminary rounds of the contest.
2. If you have won, i.e.-were part of the opening act, in the last two years,  2018 (Lindsay Ell) or 2019 (Morgan Evans) you are not eligible to compete this year.
3. If you are not available March 10th, June 2nd, June 9th and June 18th please DO NOT AUDITION!
4. You are ineligible if you have a music-recording contract.
5. Must be 18 years old to enter the contest and have valid proof of identification.
6. Each contestant will sign a release form at the Dorsey House to be turned in prior to taking the stage.
7. Employees and family members of *RadioFirst and Dorsey House are not eligible to participate.
8. Only 1 person is allowed to sing at a time. Duets are not allowed. No group performances are allowed.
9. Each contestant will sing one COUNTRY song.
10. With the exception of CD's, the contestants will use only the equipment provided by the Karaoke host. No outside equipment will be allowed.
11. Musical instruments will only be allowed if they are being used as props. There can be no sound from them.
12. Ten finalists will be chosen March 10th, 2020, during the preliminary round #1.
13. Ten finalists will be chosen June 2nd 2020, during the preliminary round #2.
14. The total of 20 finalists will complete June 9th, 2020.
15. There will be 3 winners who will be the opening act at the Jerrod Niemann concert on June 18, 2020 at McMorran Theatre.
16. RadioFirst reserves the right to disqualify and/or exclude, in our sole and absolute discretion, any individual from any of the competitions for any reason or no reason at all, including, without limitation, a violation of any portion of these rule, or tampering with the entry or audition process.
17. These rules are enforceable based on RadioFirst's interpretation.
18. RadioFirst has final say in any and all decisions regarding these contests and the concert.
19. RadioFirst reserves the right to change these rules or procedures at any time and without notice.
20. General Contest Rules apply.
Competition Guidelines
1. The order of the contestants will be determined by the luck of the draw. The contestants' names will be drawn from a box to determine the order of appearance during each night of the competition.
2. Each contestant will be judged on a point system according to the following categories: Singing ability, appearance, stage presence and audience participation.
3. Each contestant will be allowed to sing one song to be judged. No "second takes" except in the case of a mechanical malfunction…see #4.
4. In the situation that there is a malfunction of equipment, the contestant will be allowed to start over per their request. Examples are: feedback, loss of mike, or CD skipping.
5. Please bring your karaoke music with you on CD.
6. Any contestant guilty of distracting, insulting, or confronting another contestant or an audience member will be disqualified.
7. Contestants are limited to the music the karaoke host has, unless provided by contestant. Contestant must sing a country song.