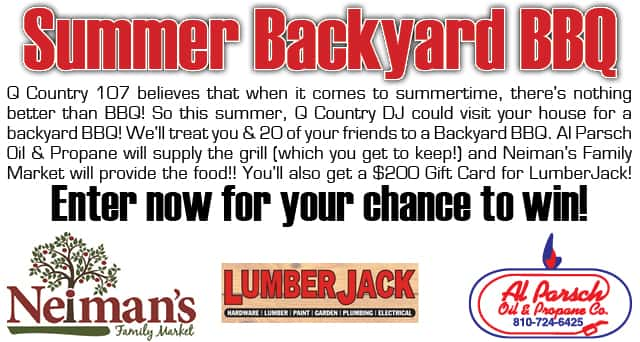 Enter by visiting wsaq.com, and filling out the entry form on the Backyard BBQ Contest Page before winners are chosen each month, or by coming to the station at 808 Huron Ave., Port Huron, MI during normal business hours, Monday-Friday 8am-5pm.
Three winners will be chosen at random. One on June 14, 2019, one on July 19th, 2019, and one on August 16, 2016. Each winner will receive a backyard BBQ with a Q Country DJ, including a grill from Al Parsch Oil & Propane, a $200 LumberJack gift card and food for 20 people from Neiman's Family Market. BBQ dates are: June 22nd from 6-8pm, July 27th from 6-8pm, and August 24th from 6-8pm. Backyard BBQ must take place on that date (8 days after winner is chosen) or prize will be forfeited. Only one entry per person. Odds of winning depends on the number of entries received.
Release
By entering, all participants agree to release and hold harmless the promotion sponsors, Q Country 107, Liggett Communications, LLC., and each of their respective parents, subsidiaries, affiliates, directors, officers, employees and agents from any and all liability and any injuries, loss or damage of any kind arising from or in connection with this contest and any prize won.
Disclaimer
Q Country 107 undertakes no liability or responsibility, and makes no warranties, express or implied, with respect to the performance of the prize(s) awarded, for any failure to perform or negligent performance of any service provider, or for any other risk, incident or damage, direct or indirect, relating to or arising out of the contest, including (but not limited to) cancellations, postponements, delays or other scheduling changes; missed events or connections or inability of winner to attend; and accident, injury, death, damage or expense arising from or occurring during the use of the prize, or travel to/from or attendance at any event relating to the contest, by the winner and/or winner's guest(s). Q Country 107 is not responsible for damage to a prize or loss of a prize after the prize has been claimed. Winners must inspect their prizes before leaving the station.
License
Entry into any contest constitutes full permission for Q Counrty 107 and promotion sponsors and their respective affiliates to broadcast and/or to photograph or publish the participant's name, voice, recorded comments, biographical information, face and likeness without compensation.
General
Failure to conform to all contest rules, or any fraud or other illegal or inappropriate conduct on the part of a contestant or on a contestant's behalf, will result in the contestant's disqualification and forfeiture of any prize won. Q Country 107 reserves the right to rule ineligible listeners who, in Q Country 107's sole judgment, engage in abusive conduct with respect to any contest or promotion conducted by Q Country 107 or its affiliates. Q Country 107 reserves the right to cancel, suspend and/or modify this Contest and these Official Rules at any time, which changes will become effective upon announcement.
All federal, state and local laws and regulations apply.  All general station contest rules apply.