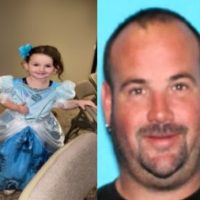 UPDATE: The missing girl and her father were located Tuesday night.
Local authorities continue to search for a four year old girl who went missing Monday night. The Marysville Police Department says Lilliana Louise Nardini was last seen aroudn 10:30pm Monday at the Burger King on Gratiot Avenue in Marysville. She is believed to be with her father, Erik Nardini, who was recently served with a court order, giving custody to Lilliana's mother. Police are looking for a 2018 Chevy Silverado Charcoal in color with a Michigan license plate CSP838 that is believed to be associated with Nardini. Police add that the license plate may have been removed or placed on another vehicle.
Tuesday evening, Marysville police provided a description of a new vehicle believed to be driven by Nardini. A 2003 Ford Taurs which was silver in color and had a Michigan license plate EKT-6624 was spotted near Toledo, Ohio. A photo of a similar vehicle is posted below.
A burgundy GMC Sierra previously sought by authorities is no longer wanted in connected to the case. It is believed that Nardini is currently on the run with Lilliana and their whereabouts are unknown. those with information on the whereabouts of Lilliana or Eric Nardini are asked to contact Marysville Police at (810) 364-6300 or the Port Huron Police Major Crimes Unit at (810) 984-5383.