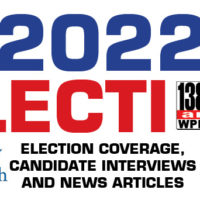 It's election day, with everything from statewide offices to local school boards and city councils on the ballot.
Voters across Michigan will head to the polls to elect a governor and lieutenant governor, secretary of state, and attorney general.
Due to redistricting, there are also competitive legislative races, including the 12th and 25th State Senate district, and in the new 63rd, 64th, and 65th state house districts.
The St. Clair County Commission is expected to look quite different, with competitive matchups in districts 1 and 4.
On the SC4 board of trustees, there will be at least one new face, as eight running for three available spots on the board. Two are incumbents, the rest are newcomers.
There's a two way race for circuit court judge in St. Clair County.
In the City of Port Huron there's a two way race for mayor, the three candidates running for city council are unopposed.
Five running for two spots on the Port Huron Area School District Board of Education.
In Marysville, there's also a two way race for mayor and there are four running for three available council seats.
Eight are running for four available seats on the Marysville School Board.
Polls are open until 8pm tonight which is also the deadline to return absentee ballots to your local clerk's office.