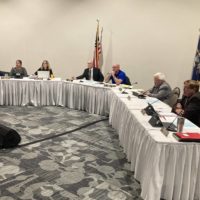 The results are in from Tuesday's primary election in St. Clair County, and there will be some new faces on the County Board of Commissioners.
In the 1st district, Republican Steve Simasko will face Democrat Fred Fuller for the seat currently represented by Greg McConnell who is not seeking re-election.
In the 4th district, Only 24 votes separating incumbent Republican Duke Dunn from challenger Joi Torello, with Torello ending up on top. She will face Democrat Jessyca Fye.
Commission Chairman Jeff Bohm earned another term representing the 5th district. About a thousand votes separating him from his challenger Shawn Treadway. Bohm will be unopposed by a Democrat in November
And in the 6th district, it was another close one between incumbent Republican David Rushing and Bill Gilmer. With 123 votes separating the two, Rushing ended up on top and will square off next with Democrat John Pettinato.