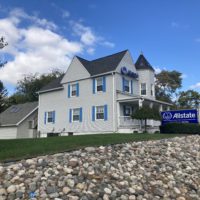 The City of Marysville will be purchasing a property adjacent to Morton Park. The $210,000 agreement calls for the city to by the house-turned-insurance agency at 502 Busha Highway. Marysville Mayor Wayne Pyden says there are no concrete plans for the building but says it has the potential to compliment the soccer fields and track recently installed at the park for St. Clair County Community College.
"We had an opportunity to take a look at the building, our partners had an opportunity to take a look at the building, and we came to the conclusion that it would be in everybody's best interest to add to the footprint of Morton Park," said Pyden.
Speaking to our Paul Miller yesterday, Pyden says one of his hopes is that the building gets repurposed into a museum of sorts to house the city's historic artifacts. He says if says if the contents of the city's Historical Museum are moved to the new building, it is likely that the former museum building on Huron Boulevard would then be torn down.
"I would be in favor of taking  (the Museum building) down… it has no heat, it's just been sitting there, and there's been no maintenance on it," said Pyden.
Built in 1912 as the Carpenter and Cuttle family homestead, the building served as offices for the Wills St. Claire Company, Marysville City Hall, and most recently the Marysville Historical Museum. Pyden says the cost to maintain the building has become unfeasible, and that the Busha Highway property is in much better shape.