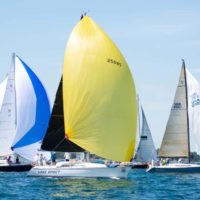 The 97th Bayview Mackinac Race is quickly coming to an end. As of Monday morning, only a few dozen boats have yet to finish the race which started Saturday in Lower Lake Huron. The combination of strong winds and a shorter course due to Canadian border restrictions resulted in one of the fastest races in Port Huron to Mackinac history.
The first to the island was the former Windquest, now called OC 86, which was first to cross the finish line around 7am Sunday Morning, but with an adjusted time, came in third among Class A boats. Some local boats of note that will be taking home burgees include Cameron and Everett Benedict's boat "Shape" from the Port Huron Yacht Club which will take first in Class K. Additionally, Port Huron boat "50/50" owned by Tom Vigrass and Steve Beeler will take third in Class L.
Full results can be found at bycmack.com.