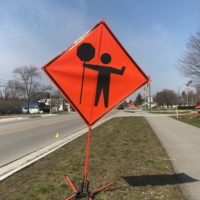 Repairs to the Masters Road Bridge over the Belle River in St. Clair County's Riley Township will begin today. The St. Clair County Road Commission will be cleaning and re-coating the bridge's steel beams for approximately the next month. Masters Road between Riley Center and Eagling Roads will be closed to through traffic during the duration of the project.
Work has also begun on a repaving portion of M-46 in Sanilac County. The Michigan Department of Transportation will resurface 1.6 miles of M-46 between Townline Roads and Maple Valley Streets in the City of Sandusky. Expect temporary lane closures and traffic pattern changes through the end of May.
Additionally,  crews continue to work on resurfacing Lapeer Road between Allen and Wadhams Roads in Kimball Township as well as portions of I-69 in St. Clair and Lapeer Counites.