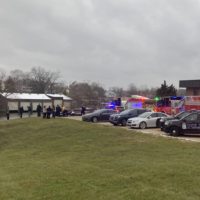 An occupant of the vehicle that crashed in to the Black River has died. 26 year old Corey Michelle Pratto was the driver of the car that entered the river Tuesday afternoon near 10th and Glenwood Avenue. According to Port Huron Police, she had trouble with the breaks and was unable to stop. Her 26 year old boyfriend was in the passenger seat and stated to authorities he was unable to swim and jumped from the moving vehicle. All three of the children in the vehicle were taken to area hospitals and later airlifted to Detroit and Ann Arbor area hospitals where they are listed in critical condition.
ORIGINAL STORY:
Three children and one adult were rescued from the frigid waters of the Black River in Port Huron Tuesday afternoon. According to the Port Huron Police Department, a vehicle driven by a 26 year old Port Huron woman entered the river through the parking lot parking lot immediately west of the intersection of 10th and Glenwood Avenue just before 4pm.
A 26 year old male passenger jumped from the vehicle before it entered the water. Children ages three, five, and seven were inside the vehicle as well as the driver. They were rescued by rapid divers from the Port Huron Fire Department. The occupants of the vehicles were taken to area hospitals for treatment of undisclosed injuries.
The Port Huron Criminal Investigative Division and the Major Crimes Unit are investigating the incident. Those with any information are asked to call the anonymous CAPTURE tip line at 987-6688 or text the keyword CAPTURE and the message to 847411.