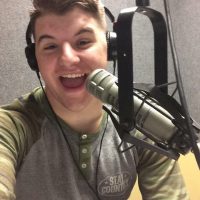 Where were you born and raised?
Born in Detroit and raised in Sterling Heights
Married? Kids? Animals?
Single as can be, that's me! Too young for kids. I have 2 Cats and  2 Dogs.
My typical breakfast?
Usually don't have breakfast just a cup of coffee. If I can sit and eat breakfast and not worry about time, I'd say give me a big ol' plate of anything and I'll eat it.
Favorite Charities?
Special Olympics, Connor's Cure, Make A Wish, and Walk MS
Spare time?
Love to go hunting and fishing when I can. If not doing that then watching Netflix or stand up comedy videos.
Favorite concert?
Faster Horses Festival 2017 for the 5th Anniversary! Headliners included Dierks Bentley, Miranda Lambert, and Luke Bryan.
Favorite restaurants?
Tony's I-75 Restaurant, Texas Roadhouse, and Luciano's Italian Restaurant.
Memorable on-air moment?
Haven't had one yet, but I'm sure I'll gain some stories under my belt soon.