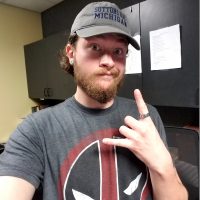 Where were you born and raised?
I was born and raised in Marine City. A small town South of Port Huron, known for its antique stores and lovely people.
Married? Kids? Animals?
I am not married which means I'm without any kids, though I do have a wonderous fish tank along with two leopard geckos.
My typical breakfast?
My typical breakfast includes bacon, more bacon, along with a side of bacon.
Favorite Charities?
Besides the St. Clair County Child Abuse & Neglect Council, I also support Wigs 4 Kids.
Spare time?
In my spare time I enjoy adventuring out in the woods and new places, hunting, reading books, watching my tv shows and playing videogames.
Favorite concert?
My favorite concert is hands down Alice Cooper at DTE Energy Music Theatre. I put my hair into a very tall Mohawk and got complimented on it all night.
Favorite restaurants?
Hands down favorite restaurant is Red Lobster. If I had the money I could spend and entire day eating everything on that menu.
Memorable on-air moment? 
My most memorable moment on air is more of a memorable week. It was on our sister station 1380 WPHM and we had a week of guest host ranging from the mayor of Marysville to Port Huron's city manager.  I was running the board and making sure our hosts sounded amazing. Each day was a riot and it was really fun hanging out with some of the top influencers of the Blue Water Area.