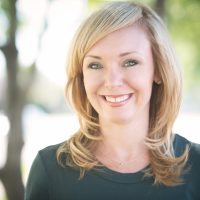 Where were you born and raised ?
Detroit! I now live in Sterling Heights with my husband
A typical breakfast:
I don't really eat breakfast … I do however love Tim Hortons iced cappacionos ! I basically have one every morning. The people in the drive-thru know who I am !
Married? Kids? Animals?
I've been married for almost two years to Brian (Big B) and we met on eHarmony.com ! We DO NOT have kids yet. Before working here I was a Nanny for about 10 years, so in a way I've had about ten kids with hundreds of stories ! Last year my husband and I bought Roary aka THE ROARS! He's named after the Detroit Lions mascot. He's a minature Golden Doodle and the love of our lives ! He is beyond spoiled and he is probably the happiest dog I've ever seen. I could gush about him for hours because I'm a proud dog mommy!
Spare Time ?
I love to shop! If I have time to myself I love to take Roary to Patridge Creek and walk around. I love trying new restaurants! I love food ! I will try anything once because I don't want to miss out. Saturday night Brian and I can be seen trying out new bars and restaurants with family and friends.
Favorite concert ?
I'm ashamed to admit that the most fun I've ever had at a concert was Kesha and LMFAO at DTE! My brothers girlfriend and I had a little too much fun and we danced the entire concert ! This was probably five or six years ago, but we still talk about it !
Favorite restaurants ?
I really don't have a favorite .. I guess it just depends on what mood I'm in . However, I do love crab legs! Brian and I will take the occasional trip to Mackinac and we love the Lighthouse restaurant! They have all you can eat crab legs and they're delicious. We went there for our first anniversary last year, so I guess you could say it has sentimental value.
Memorable on-air moment
I've only been here for a short time and I still have so much to learn! I guess the memory that sticks out in my mind is the first time Chuck called Brian Big B! I was caught completely off guard and I didn't know what he was talking about! Eventually I caught on.