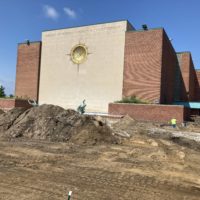 Visitors to downtown Port Huron will notice a fury of activity out front of McMorran Place theater and arena. The $1.4 million project calls for the McMorran Place Plaza to be transformed into a multipurpose outdoor recreation venue which will also include a seasonal ice skating rink, splash pad, and stage.
"I think it's going to be great recreation space for our downtown," said Nancy Winzer, Parks and Recreation director for the City of Port Huron. "We've seen this in St. Clair at their plaza, Campus Martius in Detroit… we want this to be the town square."
Winzer says the McMorran fountains will remain in place once the plaza work is done however they are in need of some cosmetic and mechanical repairs, something that the city is in the process of raising funds for. The plaza redevelopment project is expected to be wrapped up this fall.