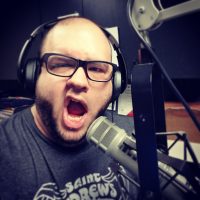 Where were you born and raised? 
Born in Royal Oak, Mi and raised in Romeo. Go Bulldogs!
Married? Kids? Animals? 
Got married too young and divorced a few years later. But everything happens for a reason! Now, I've been with my best friend for nine years! Three kids ages 12, 11, and 5. Animals? I have three kids so yes, I have animals. Seriously though, two cats… Katniss Everdeen and Xena.
My typical breakfast? 
Don't usually eat breakfast during the week. Maybe a cup of Joe on the go.
Favorite charities? 
Literacy and Beyond, and Connors Cure
Spare time? 
I love playing with my kids. I mean I have three of them so we'll probably form a band soon. I'm a big fan of going to concerts and watching sports too.
Favorite concert? 
Most recently I got to see Paul McCartney and it was an amazing experience. Too many others to mention!
Favorite restaurants? 
Anywhere that has a good burger or wings. I don't really have a favorite.
Food and I have a special bond lol…
One Crazy Random Fact?
I am a Craft Beer geek. I have a sizeable collection in my basement that rivals some local stores. My fiance loves it (insert sarcastic tone here).