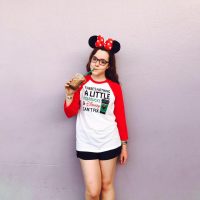 Where were you born and raised? 
Right here in Port Huron! I've lived here my entire life, unless you count the 8 months I lived in Florida working for Disney World!
Married? Kids? Animals? 
None of the above, although, I wish I had a dog.
My typical breakfast? 
I'm actually pretty terrible when it comes to eating breakfast because I never give myself enough time in the morning. I usually find myself stopping at Starbucks at least a few times a week though if that counts!
Favorite charities? 
St. Clair County Child Abuse and Neglect Council!
Spare time? 
I love spending time with my friends and family! I also enjoy singing and playing my guitar and sometimes you'll find me on stage because I also love to act!
Favorite concert? 
I have to say Lady Gaga when I was like 15. I have never enjoyed a concert so much in my life like I did Lady Gaga. My mom and her best friend even came and my mom and I still talk about it to this day! So much fun!
Favorite restaurants? 
There's so many! I love noodles and company so much like I've tried asking them to get a location in Port Huron…I also love Dragon Wok, Applebee's, Casey's and that's to just name a few.
Memorable On-Air Moments? 
I had a listener call me one time and request a song by Carrie Underwood and we just talked for a while and I got to know them and they got to know me and it really made me feel good and really made my night!