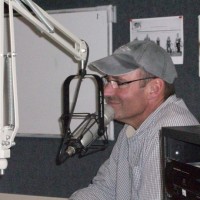 Where were you born and raised?
Detroit…or as they call it now "The D".

Married? Kids? Animals?
Yes! Yes! & Yes! Got married over 3 years ago to Linda (Who I've known for over 35 years!) 3 children…1 son and 2 step daughters. My son Joe who is attending Oakland University, majoring in Vocal Performance (and has the voice of an angel!), daughter Lindsay who will soon graduate with her Masters from Oakland and daughter Lauren who is working as a Cheer instructor at St. Clair High School. Oh yes, animals. We love our critters! Dusty, Dust-buster, D. B., or simply Pookie…he responds to all of the above. He is our Golden/Chow mix and Patches or Patch-tricia our cat.
My typical breakfast?
I'm sure I drive Stuckey nuts as every morning I must have my bowl of oatmeal! I get to slack off on the weekends….blueberry pancakes are good!
Favorite Charities.
St. Clair County Child Abuse & Neglect Council….duh?
Spare time??
Still don't have much, but I enjoy taking Dusty for walks, getting together with family and friends and listening to music…it's still my passion!
Favorite concert.
Dare I take you back to 1966, when at age 13 I saw The Who at the Southfield High School gym. It made an impression that is still burned into my brain.
Favorite restaurants.
Still love the great food put together by Doug and Sue at Bogeys.
And memorable on-air moment.
In the 80's at W4 in Detroit, while working with Sharon Foster, she brought up the fact that Jimmy Dean had become a man better known for his sausage then his music career. All I needed to do was smile and stare at her and the laughter began and didn't stop!